Product copy and current trends: our SS18 guide on what's hot
Pinch us, are we dreaming? As part of our flawless product copy service we can *legitimately* stroll around fashion showrooms and warehouses feeling lustrous fabrics, drooling over pretty prints and discovering upcoming trends months before they hit the catwalks.
As a specialist product copy agency, brands tend to work with us because we live and breathe fashion copy.  As a result, we've been sitting on some top-drawer behind-the-scenes knowledge of the hottest spring/summer 2018 trends since, oooh, about last May. So we're excited to share our thoughts with you about what we're all going to be wearing this summer.
It is summer soon, right?
Stack the Neapolitan
After the whirlwind of global fashion weeks in early '18, the dust has truly settled now and we can pick out the 'Dear Lord, what is that?'s from the 'Yeah I'd wear that's. And at the top of the list? It's got to be the sugary-sweet ice-cream pastels we saw pinging prettily through some of our favourite collections.
Most specifically, lilac is about to have her time in the early-springtime sun. That's right, no longer reserved for the mother of the bride, lilac has taken on a touch of attitude and shoulder-barged her way into some of the most warmly welcomed capsules of '18. Victoria Beckham and Michael Kors plumped for pairing the hue with the season's hottest suiting (psst: double-breasted still prevails) which slouches seductively for a more insouciant approach to power dressing. We love.
We blame Kanye and Kim for the cycling shorts. We're not sure if we'll be dabbling but if we do, it'll be with the mega-oversized hoodies and sweatshirts that help to balance out the eye-watering clinginess.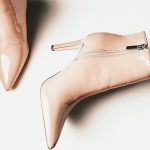 'Dad' sneakers
Okay, we're not sure how we're feeling about this one. The ugly, pumped-up sneakers we spotted squeaking up and down the catwalks gave us some seriously traumatising primary PE flashbacks. But this season, when it comes to your kicks, it's a case of the chunkier the better.
Arguably leading the pack in this sense is Balenciaga with its beloved Triple S re-emerging in some slightly careworn colour palettes to tap into that 'just chucked them on' style slant. And chuck them on we probably will, though with a floaty dress. And maybe a Givenchy bumbag? Blimey, it really is like being catapulted directly into the eye of the 1980s.
Sheer ditsiness
Now we're talking. Ditsy prints are back, and so are fluid, diaphanous fabrics. Put the two together and you've got a failsafe recipe for ethereal chic. The one thing we're not so sure about is the old 'pants on display' bent displayed by royal-favourite Emilia Wickstead. But you know, maybe… If the mercury rises enough.
Cycling shorts
As a product description agency, UK trends are brought to our attention on a regular basis as well as those from further afield.  The cycling shorts trend is something we didn't see coming. We blame Kanye and Kim. We're not sure if we'll be dabbling but if we do, it'll be with the mega-oversized hoodies and sweatshirts that help to balance out the eye-watering clinginess.
In the trenches
In slightly more versatile fashion news, the trench coat has had a loving, style-savvy reappraisal by all our favourites. From BOSS to Burberry, there are some mighty fine picks for the ultimate trans-seasonal layering option.
Whether worn belted over slick tailoring or flapping lavishly over aforementioned sheer florals, the trench has been restructured every which way to meet everyone's style predilections.
The ultimate SS18 ensemble
If you want to tick off a litany of trends without looking like the world's biggest fashion victim, team a bold print with some precisely tailored denim (we double-denim dare you). Round it off with a pastel tote to nod to the ice-cream trend and switch out the dad kicks for tonal pastel ankle boots.
SS18, all wrapped up.
As an experienced product copy agency, we have seen many trends come and go and we know how to use the right language to pitch the product to the target customer. Product copy is the perfect opportunity to sell the product to your customer and explain why they need it right now. Giving them all of the product information they need as well as convincing them that they need to hop on board with this current look is all part of the online customer journey and without product copy, it's a massive missed opportunity.
Curious to see how your product copy is performing? Hit us up for a free audit and we'll give you our expert feedback.