Using a product copywriting agency to add magic and sparkle to online content
As an experienced product copywriting agency, we were sad to hear about the Marks and Spencer store closures. However, it's an unsurprising sign of the times that they have announced plans to close 100 stores. This has been done as part of its 'radical transformation plan' which is designed to tackle recent declines in sales and profits.
According to Criteo's Global Commerce Review, smartphone sales now account for a whopping 54% of the UK's retail sales. This means any brand that isn't placing emphasis on their ecommerce store is missing a critical trick.
It's all in the spin
Following the issues faced by Debenhams and House of Fraser, we can't help thinking it's a pretty canny move to present these store closures as a preemptive measure. M&S hasn't buried the fact that their high street stores are 'failing to perform'. Their narrative surrounding the closures shows that they know full well the future of shopping is online. As a product copywriting agency, we know that the fashion world has changed so dramatically in recent years. Any retailer needs to focus more energy and budget on their online offering than they do on their high-street presence.
While M&S will forever remain a hero of the high street in our generation's eyes, we reckon this decision will stand them in good stead for transitioning into this new shopping era.
When we consider that a single mistake can slash sales by up to 50%, nothing less than flawless will do.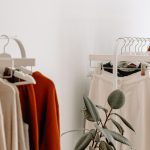 So, what's next?
The success of taking 'at least a third' of sales online depends entirely on how well the ecommerce store is managed, particularly within their apparel departments.
Here are Siblinc's four top tips for making sure M&S continues to tempt in a whole new band of fashion shoppers with great product descriptions.
Keep up the good work
While reviewing the UK's biggest department stores on how they manage their product copy, we identified M&S as doing pretty well when it comes to ticking off the essential elements of good product descriptions. Their copy has a balanced mix of creative styling suggestions, extremely detailed fit information and transparent composition details.
All in all, a customer would be hard pushed to submit a legitimate return based on lack of information.
But be consistent
While many of the brand's latest items have a creative element to their description, others simply list bullet points and recycled content with a very copied-and-pasted feel.
The bulleted information is certainly useful but these items are missing that all-important tickle that acts as an online shopping buddy. Good product descriptions make trend-aware styling suggestions and cross-sell complementary bits and bobs across the rest of the site.
A product copywriting agency will take a list of bullet points and transform them into a piece of compelling and engaging copy. This will be designed to sell all of the features and benefits of the product while weaving in some personality and brand tone of voice.
Details make the difference
Without wishing to pigeonhole too much, we see the classic M&S fashion shopper as a sophisticated individual who appreciates detail. They have a decent amount of disposable income and like to dabble in the finer things in life.
With that in mind, take a look at this summer dress. This dress is brimming with saleable details. Check out the deep V neckline and that vibrant print in a patriotic palette of red, white and blue. Look at that juxtapositioned boho touch courtesy of a tassel-tipped rope belt. We are guessing this is a case of the hard-working copy team just not having enough time to wax lyrical. Plenty of tricks are being missed here. Tricks which could've secured a whole pile of sales if the description had been written by a specialist product copywriting agency.
Check, check and double check
Granted, we had to dig pretty deep for this one. It seems the M&S copy team does a superb job of proofing and quality checking. But when we consider that a single mistake can slash sales by up to 50%, nothing less than flawless will do. Can you spot the error in this description?
Next steps
The Marks & Sparks copy team is doing a great job, but they're lacking the necessary support to achieve consistency across the board.
For any retailer, the product copywriting process is a cumbersome task, we know that all too well. That's why we established our specialist agency five years ago. By offering dextrous support to international brands of all shapes and sizes, we're able to help their fashion product descriptions stay consistent, efficient and, above all, flawless.
For an insight into the minds of online shoppers, register to download our Seven Steps to Success PDF for free. It's brimming with tips, tricks, facts and stats that help us turn out oodles of flawless product copy.